Happy St. Patrick's Day!! We've had a wonderful couple of weeks of live Irish music!!!  2 weekends ago, we drove to a lovely little theater in Cumberland, RI to see Caitlin Nic Grabhann and Ciaran O Maonaigh along with Robbie O'Connell Caitlin is a concertina player (amazing) who also danced with Riverdance (amazing) and played with Ciaran who's a wonderful fiddle player.  They played the first half of the show… Then Robbie O'Connell (guitar and vocals) did the second half, and they all played together a few songs at the end. It was a GREAT show… Caitlin and Ciaran met with the kids during intermission and were so great with them!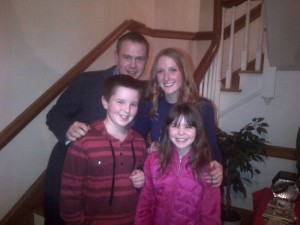 Here's a pic from the end of the show. It was wonderful!!!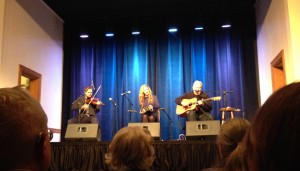 On the following Friday we had tickets (which we've had since Christmas) for the WGBH Celtic St. Patrick's Day Sojourn at the Hanover Theater in Worcester… An amazing show, and who was playing??? Caitlin and Ciaran!! Yay!! Plus so many wonderful performers, like Carlos Nunez… WOW is all we had to say… Here's a little clip from the very end of the show with all the wonderful performers on the stage…  (ummm, that's Caitlin dancing too, seriously talented).
The show was so great, that Mike got tickets for himself and the kids to see it again on Sunday, this time at the Sanders Theater in Cambridge (I couldn't go 'cause I spent the weekend at the Google Summit, also amazing!!).
Here's a couple pics of the kids with the performers for Sunday's show… some of the same, but some different, I love the the shows are not static!! Mike said the theater was just amazing, we'll certainly choose to go there again!! It's so personal!!
Yay!!! A picture with the wonderful Brian O'Donovan!! Host of the Celtic Sojourns!!!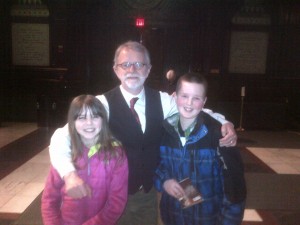 And the simply amazing Carlos Nunez… Seriously, what a performer he is, really knows and connects with the audience!!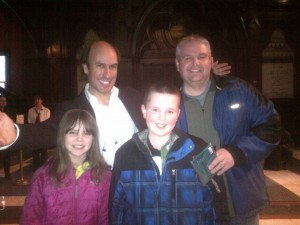 Now… Next week, we're going to see the farewell concert tour of the Irish Rovers!!!! I cannot believe that we're going to see them live, after all those years of listening to them on Saturday mornings!!!
Happy St. Patrick's Day!!! I hope you can enjoy some live music very soon!! There's nothing like it :)