We all know that I'm multicraftual… Paper, Fabric, Yarn, doesn't matter the medium, I just like to make stuff :) I just recently decided to join in on a Mystery Knit a Long, meaning, lots of people knit a project at the same time, but with the added fun of a mystery pattern!! I usually don't like the "pressure" of a knit a long, because I don't like to feel behind in my crafts if we have a crazy week… But one of my favorite stores, The Woolpack in Acton sent out an email and invited all their customers to join in (they're offering a discount on the yarn as well).  I had recently bought the correct amount of yarn, and had no plans for it yet, so I purchased the pattern, and the first clue was distributed on Monday… I am nearly finished with the first clue, and am very excited about how it's coming out!!
The pattern is available on Ravelry, I already have several patterns by this designer, and they were all very well written and easy to follow… The first clue was no different!! The fun of this is that every clue has 2 different choices, I chose 1B for the first section, and it's coming along very nicely!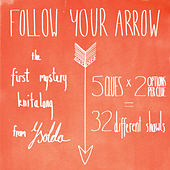 I'm using a variegated yarn ('cause I almost never use a solid). The yarn is by Knit One Crochet Two, Kettle Tweed in the Mushroom colorway (greys and browns). And, I love the feel of it so far! It's fingering weight, which is a FAR cry from the chunky yarn I usually use, so it's different and fun!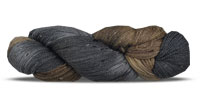 As I type this, I'm on row 47 with just 11 rows left in the first clue.
SPOILER ALERT: if you are working on this and don't want to see progress, the picture below is of where I am right now :) I just started the lace chart and have 11 rows to go… Don't look if you don't want to see :) Obviously it will lay flat when finished and blocked, but I'm loving it so far… I'm excited to see how it comes along!! Anyone else thinking of jumping in?