…these are a few of my favorite things!!
I am so happy that these packages are all ready to be delivered today!!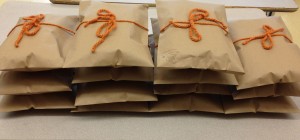 That's 14 scarves, all packed up and ready to be delivered (just in time for cold weather and Thanksgiving) to Lazarus House (I bring them to the contact person at the kids' school, and she distributes them for me!).  I will say, it's not as many as I had originally planned to have ready, I originally planned to make one scarf a week through summer… but I got distracted… I also dropped 4 off at the Friary yesterday for the priests, and there's one more waiting in my car for the adorable little old man who walks his dog near my school every morning (well, except THIS morning, when of course I didn't see him).  But, I have some more yarn, and just finished a bunch of other projects, so I have time to make several more this week.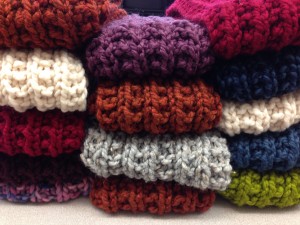 Looking at this pile of scarves makes me so happy!! That chunky yarn is quick to knit, and it will hopefully put a smile on the recipients faces… AND help to keep them warm!! It's a win-win!! I get to keep my hands busy ('cause my grandmother always said that "Idle hands do the devil's work") and it makes people happy!! Yeah!!
Look how pretty!!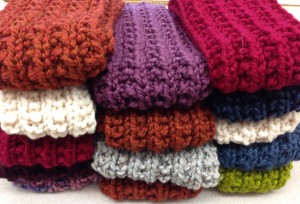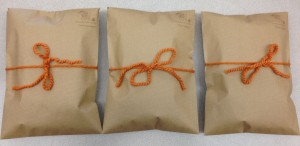 I use the Lion Brand Wool-ease Thick and Quick yarn (usually… there's a beautiful hand dyed Peruvian wool in there too… pink and blue, bottom left). I'm happy to take it off your hands if you have some that you're not using… doesn't matter what color… Of if you happen to see it on sale, please let me know… I'm always on the lookout for it on sale so that I can stock up!!