You know how much I love to make things :) the end of the school year is no exception!! It is no secret that I LOVE the school that the kids go to… And, I LOVE, LOVE, LOVE the teachers there!! So, every year, at least at Christmas and the end of the year, I try to let them know how much I appreciate them with a little something that I make…
Well, this year I made Mug Rugs!! What's a mug rug you ask? It's also called a snack mat, and here's the little tags that I made to accompany the mats so that the teachers know what they are too :) I found an explanation on Pinterest to explain what mug rugs are, made tags using MS Word, cut them out and attached them to some pretty paper (Fancy Pants) and added a piece of ribbon to close the bags.
Here's the stack of mats before I bagged them and got them ready to be gifts.  The fabrics are from the School Days line by American Jane for Moda fabrics… I love how they came out… Amazing how easy it is to make super cute little gifts with a charm pack and jelly roll! Here's the stack of them… Front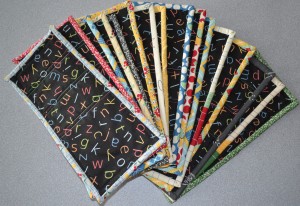 I made one for each of the teachers that the kids have, including all the specialists (I'm a specialist teacher myself :) I know how hard they work too!)… Plus the main office staff and principal and asst. principal.  16 mats in all. Here's a close up of one of them, they are all different…

The mats measure about 5″x10″ For the kids main teachers, I made a mat, but found these pretty stoneware teacups and saucers, put the mug rug, some fancy teas and a Starbucks gift card in the cups and packaged them up.
Here's the single ones packed up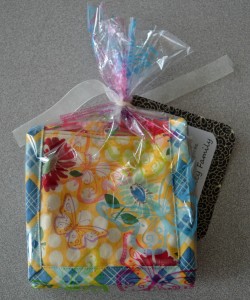 I'm pretty happy with how they came out, and hope that the teachers like them.
Happy Summer!!!