Here's another installment of "Oh, the quirky places we go!!"
It started out with Kathryn and an assignment at school where each student was assigned to "be" a famous person from Massachusetts… Kathryn was assigned Louisa May Alcott. They worked on the report at school, and there was going to be a presentation where the students dressed up as their person, gave the audience clues, and you had to guess who they were.  So, on a random weekend, we were driving to the Concord Armory for an antique show… And, don't we drive past the Orchard House, the home of Louisa May Alcott!! So, of course, we went in and took a tour!! The tour was really great!! Honestly I was a little nervous when it started because our tour guide looked like she was 12 :) but she was terrific!!
Of course we took a couple pics of Kathryn at "her" house for the report!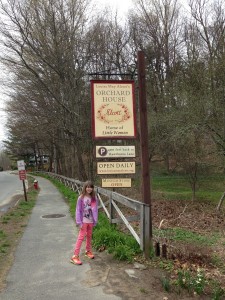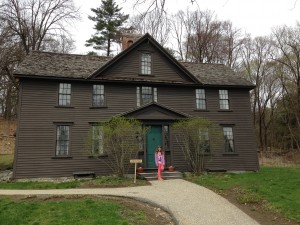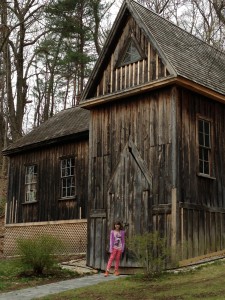 And, then of course, we "had" to make her a costume!! I took one of her old school shirts, that was just a little too small to wear comfortably all day, but still kinda fit… Then we went to the store and bought a flat sheet in blue and some pink hem lace… Make a skirt, overlay, and then some ruffles and lace to the shirt, and…
Voila!! Meet Miss Louisa May Alcott!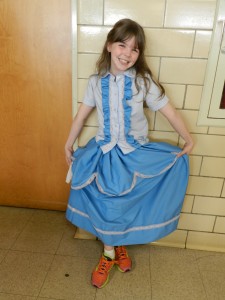 (not bad, but I'm pretty sure that Miss Alcott didn't have neon orange and yellow sneakers)
and here's a shot of Miss Alcott with her teacher… How much do we LOVE Miss Kasey!!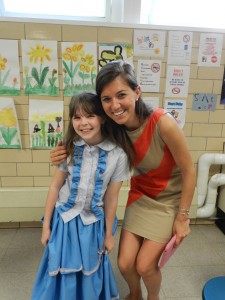 The costume was REALLY easy to make, and so much fun!! You can do so much with a sheet, a pack of lace and a sewing machine :)