I LOVE making presents for new babies…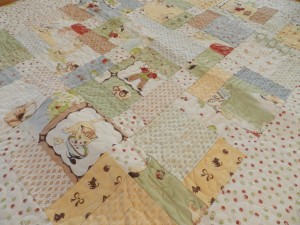 In fact, I firmly believe that EVERY baby should have something handmade for them :) Mike's cousin just had her beautiful and healthy baby boy, so I thought I'd share the little quilt that I made for him.
I forgot to measure it before I gave it to them, but it isn't huge, it's the perfect size for playing on the floor or for a crib.  I used Moda Lil Rascals Quilt Cotton Fabric

… I just love the "old-timey" look of the fabrics!
This quilt was the very first that I quilted on my new sewing machine, and the first that I've free-motion quilted (so don't look too close :)
Here's the whole front…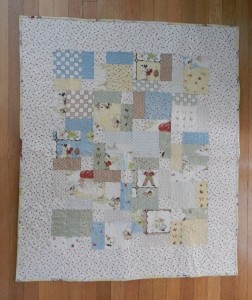 Here's a full shot of the back… Isn't that fabric adorable??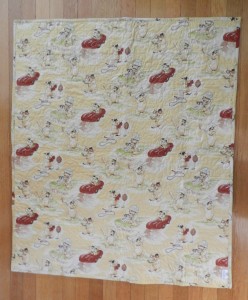 The front is a Disappearing 9 patch made with a pack of charm squares, and then a border added around the edge. Here's a closeup of one of the fabrics :) love that little kitty!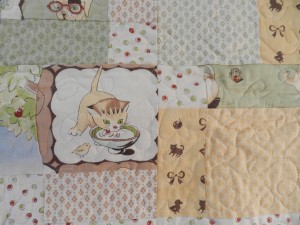 And here's a close up of the backing fabric… Aren't those pups adorable?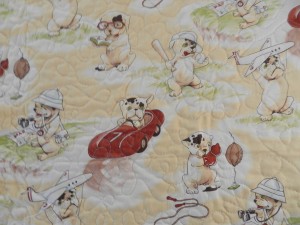 And a close up of the finishing touch :) the tag…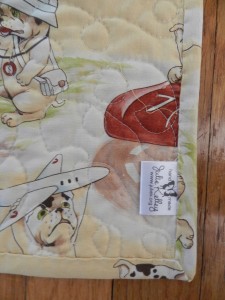 We just got the sweetest thank you note from them, and they just had the baby last week… I can't wait to meet him in person!!
Here's a link to the fabric I used for the border…

I have a bunch of projects that need to be posted… Now that the weather is nice, I'll get them outside to take pictures and post them soon!