I love having the opportunity from Naturally Savvy to review some of their products… We all want to eat healthier, it would be so nice to have the time (and money) to be able to eat only whole organic foods… But the reality is that as much as we want totally holistic home grown foods, most of us just go along, eating the best we can with the time and resources available.  This book, Unjunk Your Junk Food is a wonderful resource for eating better without tons of judgement!! It has a great way of giving you choices… Listing the ingredients of a "bad" choice of junk food, and then giving an alternative better choice!!I love that the book doesn't preach about taking all the "goodies" and snacks out of your diet, it just gives you a healthier alternative!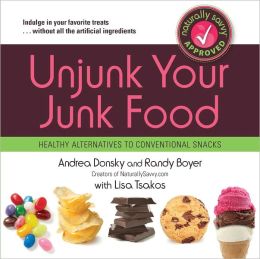 The glossy pages, great images, and straightforward language make this book perfect if you're trying to eat better, but still like to eat pre-packaged foods and snacks. The pages are full of information on some of the "worst offenders" on the ingredient lists, and how to clean them up for better choices. I find myself reaching for the book often, just refreshing my (bad) memory!! I especially appreciate that the book goes into "hidden" names for some of the worst ingredients, knowing what to look out for on the ingredient list really makes shopping in a healthier way better!
Disclaimer: I received a copy of "Unjunk Your Junk Food" from the  Naturally Savvy Blogger program to facilitate this review. Opinions are my own.