I don't know about you, but my doctor has been telling me for a LONG time that I need to cut out caffeine… I ask her… Do you know what I do?? I have 24 8th graders in my classroom at 7:27 in the morning, without caffeine, someone is likely to get hurt :) but she keeps insisting that I need to cut it out… I was very excited to get the opportunity through Naturally Savvy to try out Teeccino products! When the box of "coffee" came, I was happy to give it a try.
I really like it! It does not (to me) taste like coffee, but it has very nice flavors, and a ton of choices for flavoring… It completely satisfies the "I need a hot yummy drink first thing in the morning." It's funny, we had recently been to a visit to Georges Island in Boston Harbor. We went on a tour and they were talking about how well the prisoners ate during the civil war, and how only one person ever attempted to escape. They had coffee here, and in the south, because their supply routes had been cut off, they didn't have actual coffee in the south. They only had chicory root "coffee," which was a main ingredient in Teeccino. It's actually delicious, but it made me giggle when I looked at the ingredient list!
Here's a photo of some of what arrived in my box… Some is not included because I drank it before I remembered to take a picture!!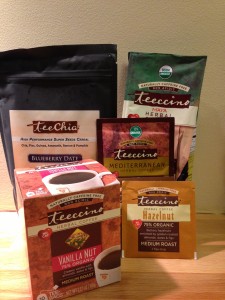 See Teeccino on Amazon
Also included in
the box was TeeChia, a superseeds hot breakfast cereal. I seriously LOVED the TeeChia. It's gluten free and delicious, plus it cooks up super quick just like other hot cereals.  The blueberry is seriously really good! And, teamed with a delicious no caf drink, and you have the perfect breakfast!
I was provided a box of Teecino and TeeChia by Naturally Savvy to review, but the opinions expressed are my own. Please see my disclosures page for more information.