Here is a photo of  me and my new friends…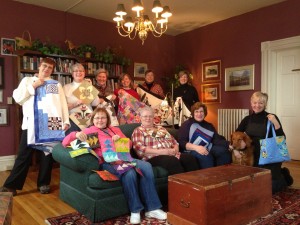 (Gloria, Florence, Gale, Me, Lisa, Carol, Alison, Donna, Kathy, Duke, and Mary with special thanks to Hugh for taking our picture with 50 different cameras and phones!!)
I have to post about my WONDERFUL relaxing and very productive retreat spent at the beautiful Strong House Inn in Vergennes, Vermont. Now, if you've read my blog before, you know that I LOVE mountains, and LOVE visiting Vermont… In January, we were in North Conway, NH, and I said to Mike that I wanted to go and stay at a bed and breakfast someday… He made a face :). The next week,  I happened to be looking at bed and breakfasts, and I found this quilting retreat online that was hosted at a bed and breakfast in Vermont.  It was Wednesday-Sunday and happened to be during my school vacation week. I took that as a "sign" that I needed to go :) Plus, as an added bonus, Mike didn't have to go to a bed and breakfast, but I could cross it off my "list" of things I wanted to do!! Bonus!!
Now, if you've read my blog before… You also know that I don't generally go places that I haven't been before by myself… Part of that is because I'm seriously directionally challenged… I commuted to college and swear that I got lost at least once a week for 4 years on my way either to or from school!! My husband can go someplace once, 20 years ago, and find his way back no problem… me? I'm lucky I can get home from the grocery store without incident :) But, now I have a GPS, which is the best thing since sliced bread :) and so, I signed up to go away to a quilt retreat for 5 days in a place I've never been (we've been to Vergennes, just not the inn) all by myself! The ride up was beautiful! Fresh snow on the trees, the GPS took me back roads off the highway, very nice!! Of course, when I stopped at a rest area, I went to grab my coat and realized that I went to Vermont in February without a jacket :) but that was OK, 'cause I was planning to sit and sew for 5 days :)
I will do a part 2, with pictures of all the projects I made while I was there… but first, the Inn… Oh my heavens!! It's so nice!! It's a place that makes you feel right at home from the moment you walk in the door!! Hugh and Mary are just wonderful Innkeepers… It started with a tour of the beautiful inn and the quilting space! Here's a few photos…
The view walking to the Inn from the parking lot.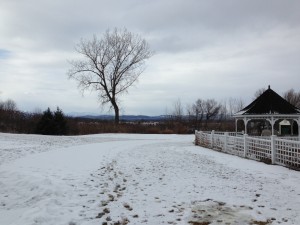 The breakfast room.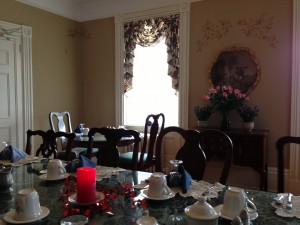 The quilting room.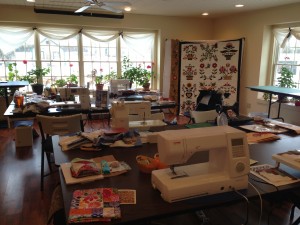 The library.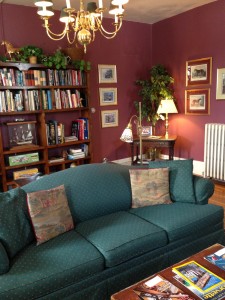 Here's a sneak peek at one of the projects I made on the first day… There's 2 large design walls set up so you can see what you're working on!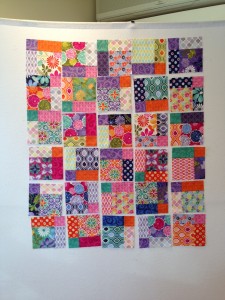 It was just lovely!! We arrived on Wednesday, once everyone was there we all ordered dinner from a local pizza place that delivers… We sat and chatted and got to know each other a little bit, and had a lovely desert provided by Mary, our innkeeper…
Thursday was "shop hop" day… We had a lovely and delicious breakfast, sewed for a while, had a delicious lunch, then piled in cars to go and visit 4 different fairly local quilt shops… (CLICK HERE to see photos Mary took of our shopping adventures… but don't tell my husband about that pretty pile of fabric in my hands :) and at the end of the day had a wonderful dinner out, then back to the Inn for more sewing :)
Friday and Saturday were "do what you want" days… With breakfast, lunch and afternoon tea and treats at the Inn… We had dinner both nights from Three Squares Cafe in Vergennes… Which looks like a small ordinary sub shop… it is anything but ordinary!! Really delicious good (and interesting) food… Their flourless chocolate torte (AKA by us as the Chocolate Bomb) was holy cow good!! Winding up on Sunday with breakfast and packing and having to say goodbye to new friends who I feel like I've known forever… I made a lot of things, which I'll post soon… And, I felt young (they teased me about my young age!! That was GREAT fun!!) but the ladies accepted me into their group as if they'd known me forever!! Honestly, it was just wonderful!! People from Vermont, Mass (me, and from the Cape), Connecticut, New Jersey and even as far away as Georgia!! Sew much fun!! :) Some extra special thanks to Florence, Donna and Gloria who were my table-mates and treated me as if I came with them :)