I am so very excited about my "Everyday Warmth" scarf project!! Thank you so much to my friends and family for their support to get this project started!! Since I started making the scarves a couple weeks ago, 6 have gone to the church to be distributed, I have a couple listed for sale (with a couple more ready to be listed) a custom order that's almost ready to be delivered along with the matching donations, plus a few more made!! It has been great so far!! I made up a new website to keep track of all the scarves and also to invite other people to join in!! If you create scarves, hats, mittens, quilts… Anything that you create to donate to various organizations… Please let me know and I will list you on the new site… I would love for it to be a resource for anyone looking to add creating for charity to their crafting!
Check out the new site Everyday Warmth and follow the project on Twitter, Pinterest and Facebook, there's even a button to share!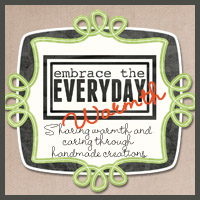 If you're looking for this week's We Share Wednesday Link Party… Don't worry!! It will get posted later on today… I wanted to share the new website, and I have a class to teach this evening… But I'll do my best to get it posted today!!