Kathryn had a birthday party to go to for 3 of her friends… Our first stop was the mall to pick out some gifts (At the Hello Kitty store, of course) but you know me… I couldn't just leave it at store bought gifts!! Our next stop was the fabric store for Hello Kitty Fabric, some fun buttons, and webbing for handles! I used the same michellepatterns.com pattern (but this time the small size) that I used for the last bag I made, but because time was a factor (I made them all Saturday afternoon for the Sunday party!!), I used a nylon webbing instead of making handles :) Here's the front… You can see the little ladybug button :) If you like the projects, don't forget you can pin them using Pinterest just by clicking the little "pin it" button under the photo…
The bags are also sporting my new fabric tags!! I know my Mother in Law is a huge fan of me signing my work :) and here's the fabric version… I think they came out great, and make the bags look a little more professional :) I had them made by www.misslabel.com and they did a fantastic job!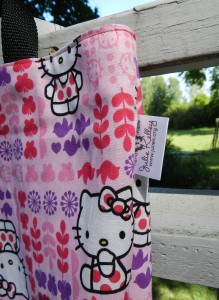 We filled the bags with little Hello Kitty things, and I sure hope that the birthday  girls like them as much as I do!! I made all 4 (one for Kathryn) bags in less than 2 hours, and I really love how they came out. I have enough fabric to make a couple more, but alas, summer vacation ends today… I'll have a little less time to sew in the next few weeks…
Here's a sponsored link to the inside fabric that I used… Who doesn't love Hello Kitty??