I was THRILLED to be invited to be a guest blogger over at Keeping it Simple. Kaysi's blog is so great, and she's moving and needed a few blog posts for her move week… I hope you'll go over to her blog and check out the full step-by-step tutorial… And let me know if you try it out, I'd love to see what you make!!
I was so excited that my daughter's friend (and her mom) wanted me to teach her how to sew! It's so fun to pass along the traditional skills that I learned from my grandmothers when I was little! I wanted to have the girls make something "real" that they could show off a little, but also that they could really make themselves, so I came up with this little skirt. It uses just 3 cuts of fabric (and only 2 if you use prepared bias tape). My daughter doesn't like seams, so this skirt features an enclosed pillowcase top band that was super easy, but looks impressive! We added a little t-shirt with an iron-on detail to make the perfect outfit. I hope you enjoy and make these with a special little girl in your life!
Here's a peek at the finished product! Look at how proud she is of her own handiwork!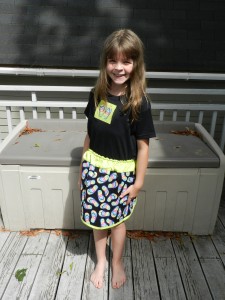 Here's a picture of the finished skirt.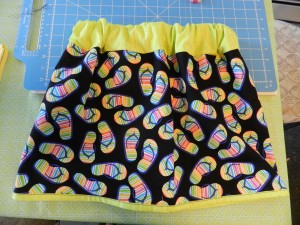 We also ironed on the design and made a cute matching T-Shirt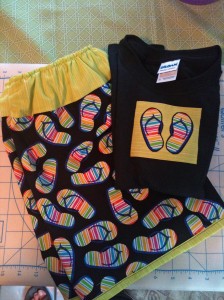 I hope you'll head over to Keeping it Simple to check out the step-by-step tutorial!