I know that my crafts are somewhat seasonal :) I always have paper crafts going throughout the year, but when it's cold out I crochet and knit… In the summer I quilt and sew because I set my sewing machine up on the kitchen table and leave it there :) I do love to sew!  I have a super cute sewing tutorial that will be posted over at Keeping it Simple next week, but that's not the only thing I've been up to!!
I'm working on several projects… This baby blanket came out super cute (I think) it started as a Moda Bungle Jungle charm pack, and I used the Missouri Star Quilt Company 5″ Tumbler ruler… It came together in an afternoon, which is good 'cause the "baby" isn't such a baby anymore, I was making a knit blankie for him, but I just can't knit in the summer :) so I needed to get this done!! All babies should have something made just for them!
I love the colors…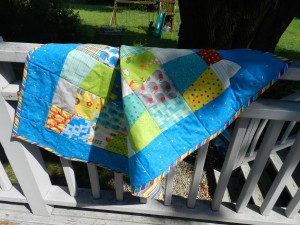 here's the whole top… A huge thank you to the very nice ladies at the Quilters Common in Wakefield, Kathryn and I took the finished top there, and they helped us to find coordinating fabric (they didn't have bolts from the Moda line) for the border and the backing/binding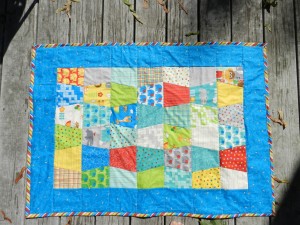 A closeup of one of the corners, love the little monkey!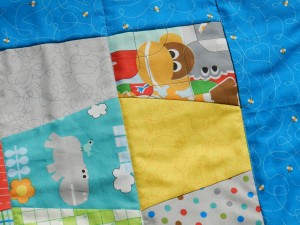 And here's the back, bright and bold, I really like how it came out, now I just need to get it in the mail!!
Don't forget to click the "pin it" button to share the quilt pictures if you like them :)