WOW is the word that immediately comes to mind now that we are home from a quick trip to my new-favorite National Park!  This post will most likely be VERY LONG, I took a few more than 600 photos on this trip :) I'm going to break it up and only post Glacier today, and later in the week I'll post about Mt. St. Helen's and Mt. Hood… Bear with me :) The kids went with my Mom to the lake, this year they finagled a 10 day visit :) so, once we were sure that the weather would cooperate (actually with 2 days of planning) we were off on what we originally called "The Great Train Adventure."
So, the plan… Fly to Chicago, take the Empire Builder (Amtrak) train in the sleeper car to East Glacier where we had a rental car, and a hotel we could walk to from the train station… The hotel is a 100-year-old lodge originally built by the Great Northern Railroad. Then, after 4 days in Glacier National Park, hop back on the train again and continue to Portland, Oregon where we could drive to Mount St. Helen's, and Mount Hood. Sounds exciting, right?
My ONLY complaint at all about the trip, it was mostly fantastic… O.M.Gosh… If I were as bad at my job as Amtrak is at theirs, I would be fired. I certainly would not be getting government subsidies for being THAT bad at my job.  First, we left Chicago 4 hours late (and from the conversations around us from people who take the train regularly, it turns out that it's a normal occurrence). So, we would have had time to connect with Mike's cousins that live in Chicago, where we thought we only had a short layover… Ok, that made us 5 hours late getting into East Glacier, so instead of arriving at 6:45 pm, we arrived just before midnight (according to the hotel manager, if you manage to get in on the same day you're scheduled, it's a good day).  Ok, that was a heck of a long time on a train that's a lot closer to riding the Red line than your image of the Orient Express… But, that's Ok… Our train leaving East Glacier was supposed to board at 6:45, and at 11:45 it finally arrived.  Wow, so we were supposed to arrive in Portland just after 10am, we finally got there a little after 3pm. What a mess, we will never take a long ride on Amtrak again, what should have been the "great train adventure" turned into a wonderful vacation where we had to endure 2 horrible train rides. Amtrak is HORRIBLE, did I mention that already? Just in case you missed it, Amtrak=BAD.  As an example, we're already running over 3 hours late in our trip to Portland, OR.  2 stops before (just after Spokane) the conductor comes on the loud speaker to tell us that because we were so late, the track crew couldn't wait for us, so they went ahead of us and removed a section of track to work on it, we'll be pulling over to wait while they fix it… Wait?? What did you just say?? They knew we were coming, and they took out a section of track??  Yup… Enough of that… The REST of our vacation was amazing!!
Ok, back to the fun stuff…
I am a person who LOVES mountains, and mountains with a river (like the Kancamagus Highway in the White Mountains of New Hampshire) are my favorite places to visit.  Add in that the water looks MAGIC 'cause it's glacier water, and I'm in heaven!! We went on various hikes (and man, I'm out of shape!!) to simply amazing scenery. I LOVED it!! The lodge we stayed at is 100 years old, beautiful on the inside and out, but also bare in the rooms… No TV, no internet… This connected girl had a little trouble on the days I couldn't get in touch with the kids 'cause we had no cell service or internet… But that's Ok, the scenery more than made up for it!! And, the kids were fine without us :)
Here's a few of my favorite photos..
Scenery from the side of the road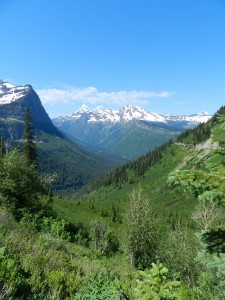 That is a Rocky Mountain Goat standing on the side of a cliff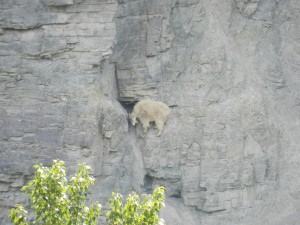 One of many waterfalls we hiked to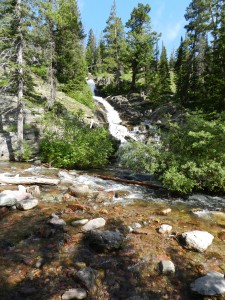 waterfall…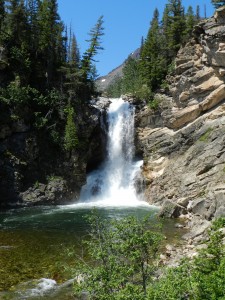 just look at that!! beautiful!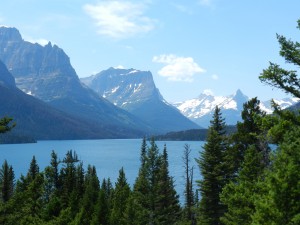 Did I mention we saw lots of waterfalls?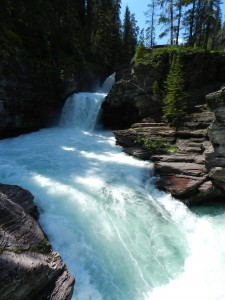 At Logan Pass climbing the snow field (much easier going up than down!!)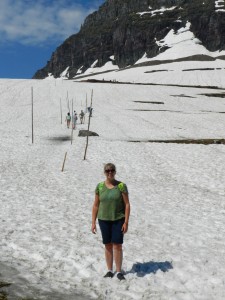 a smaller fall on the way to Virginia Falls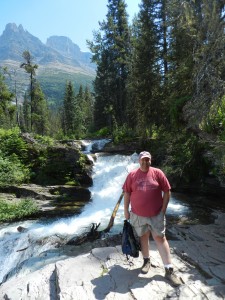 Rocky Mountain Goat on the side of the road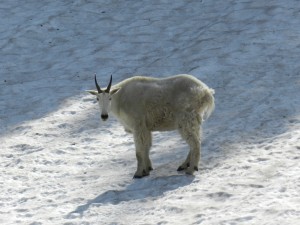 ah, mountians! We were chasing the sunset when we came across this field of flowers with the mountains in the background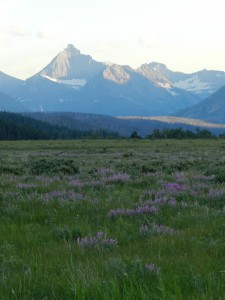 On our way to Avalanche Lake, what a climb that was…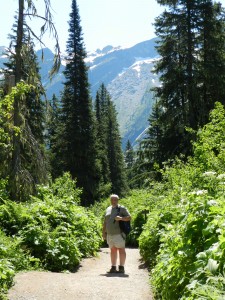 Along the way… (Gross!!) Fresh bear poo…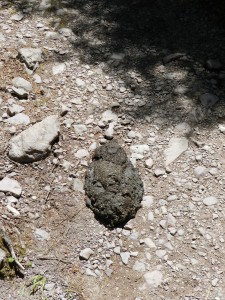 worth the hike! Avalanche Lake, surrounded on 3 sides with mountains and waterfalls… Looked like the setting for How to Train your Dragon :)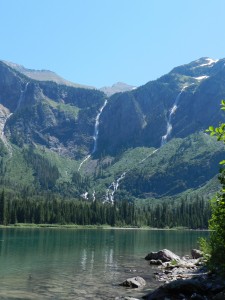 a little friend visited while we sat for a minute before we had to hike back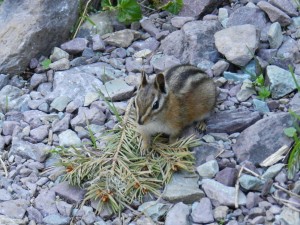 so… this picture doesn't look like much… BUT it's our "bear" shot… Which I missed… Driving along a windy road, came around a corner, and crossing the road was a black bear!! We stopped, he stood on his hind legs for a second (and was probably as tall as I was) and then ran for the woods… where I got a pic of the woods… Oh well, I was just glad that we saw him from the safety of the car :)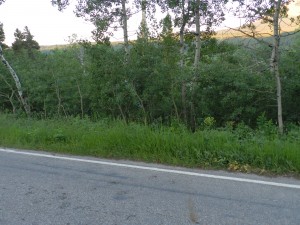 Many Glacier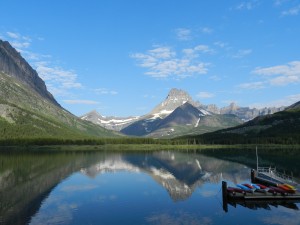 Suspension bridge on a guided hike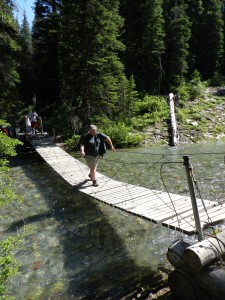 the destination of the hike! Grinnell Lake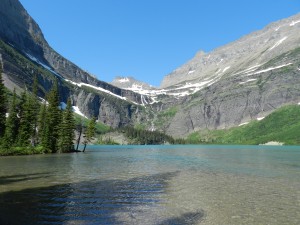 ummm, yeah, there's lots of Rocky Mountain Goats coming over Logan Pass!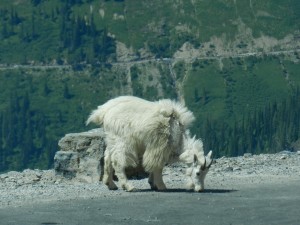 These female Big Horn Sheep crossed my path about 10 feet in front of me…
And, finally, a shot of the hotel we stayed in!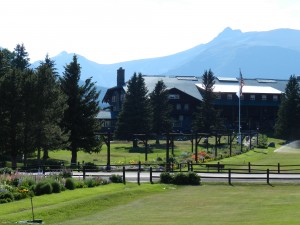 If you made it this far… Thanks!! I had a wonderful time in Glacier, and would go back again in a heartbeat!!! (but not on the train!!)
I'll post pictures of the rest of vacation in the next couple days :)
This is the main book we used… Pretty true to difficulty levels with only one exception… The Avalanche Lake hike is much more difficult than listed, the rest all seemed true to the descriptions.