Ok, I KNOW that I've mentioned my LOVE of these stamps before… HERE and HERE and HERE and HERE… I met Stephanie Barnard at CKC Manchester this spring, and she has to be one of the nicest people I met that day!! And… (Cool) SHE left a comment on my blog last week!! How fantastic must it be to be a part of her design team? I hope she has an open call sometime soon, I'd love to apply… Anyway, the stamps give a fabulous impression on the first outing (no having to use the "eraser trick" on these beautiful stamps!!). I joined the club, so every month a new fabulous stamp arrives at my doorstep!! And last week the new one came! Check out this cute card I made ('cause it was so cute, I had to make a card the same day it arrived!!) The stamp set is called crayons2stamp and is really versatile…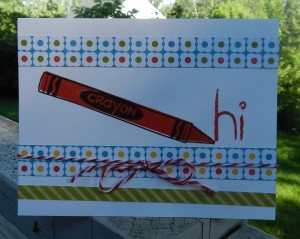 The inside color, the crayon outline, the word crayon and the "hi" are all separate stamps, there's also a ton of sentiments included and a heart and 2 flowers… It's a fabulous set that I'm sure I'll show you more projects with soon!
And, you all know how much I adore the little turtle stamp from last month… Well, I couldn't resist using him again… Aren't they so cute? Those are perfect pearls "bubbles" added :)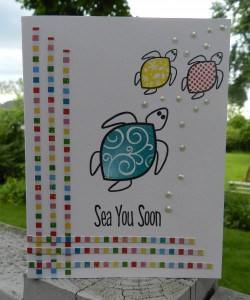 Don't forget, if you like the cards, feel free to pin them to Pinterest, all you have to do is click the little "Pin it" button under the images.  Thanks so much for visiting today!