I'm so happy to have a tutorial featured over at http://chicnsavvyreviews.net I'll be a contributing blogger there (about twice a month to start), and will let you know whenever a new post is live! Please check out her site, she posts lots of giveaways and reviews!!
If you click HERE you will see a complete step-by-step tutorial on how I made this adorable Post It Note holder, with personalized post it notes inside… It's literally a 15 minute project, which included me stopping to take photos! I used the turtles2love stamp set from The Stamps of Life, I cannot recommend these stamps enough!! They stamp beautifully every time, and look at that turtle!! Isn't it just the cutest?? I joined the monthly club when I discovered them at CKC Manchester, and honestly, they have very quickly become my go-to stamps!
Here's the front… It's about 3 1/2 inches high, and 3 1/4 inches wide. The patterned papers are scraps of last year's Little Yellow Bicycle Sweet Summertime paper line.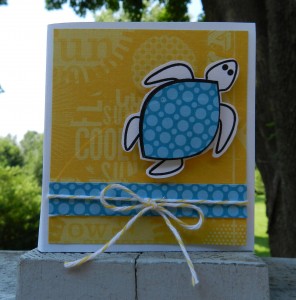 Here's a shot of the inside where I stamped the smaller turtle from the set every 10 notes or so, and also stamped the cute "back" in blue ink to make him even cuter!
If you like the project, don't forget you can share it through Pinterest by simply clicking the "pin it" button under the image! Also, don't forget to follow me on Twitter (link in the top menu bar) too :)
The links below are affiliate links…