I love to make little presents for the teachers at the kids' school, just a little token of appreciation for all their hard work and dedication. I am just so thankful to all of them for everything that they do… So, I make a little something for all the teachers that the kids have, plus the principal and other staff too… CLICK HERE to see what I made for the teachers last year… And, here's what I made for them all this year… I bought packs of small notebooks, and made covers for them, and included a little mechanical pencil.
I trimmed white cardstock to 5 1/2″ x 8″ and scored it at 4″ and 4 1/4″ across the long side. I used a little scrap to create the pencil holder, then used a couple pieces of patterned glitter paper (DCWV from the Citrus Stack) for the cover. I think they came out really cute!! They are all a little different… I bought little white sandwich bags to package them with a little "thank you" note one the front of the bag… Here's what one of them looks like… Notice the front cover only goes over to the pencil.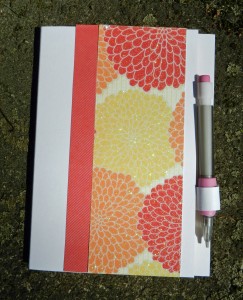 And here's a picture of it opened up…
Now, I also like to make a little something special for the kids grade teachers… They work so hard and I have loved all the teachers that the kids have had in the school so far… This year, I made them each a little altered clipboard that I decorated with patterned paper and ribbon. The patterned papers are Fancy Pants, and of course the ribbon is May Arts. I decorated the clipboards, and then made a little book mark with the scraps! I used large index cards for the "paper" on the clipboards that can easily be replaced when they're full. Here's a photo of the front with the bookmarks.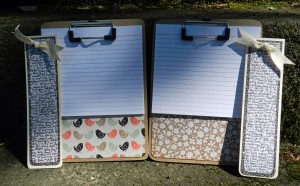 And there's the back with the cute little bow!