So… Today's 10 is part of my new found obsession… Replacing my Grandmother's china… Which would be easy, right? well, yeah, IF I knew the name or even maker of the china… If, for example, some family member had the china and could read to me what it says on the bottom… Unfortunately, all I have is a vague memory… Until… Well, Here's my Ten for Today…
1. I have no idea what happened to the vaguely remembered china… Kinda grey flowers, maybe silver trim… in the old hutch, which all seems to have disappeared when the old hutch was replaced in the 80's…
2. Message all my friends and relatives on Facebook to see if I'm crazy and the china was a figment of my imagination… and some remember it… but no one has it…
3. Spend literally hours googling "White china, silver rim, grey flowers" Do you KNOW how many china patterns fit that description?? ummm, about a billion!
4. THANK YOU Kathy for the suggestion of looking through old pictures!!! I found some, and have emailed Replacements.com to see if they can figure out the pattern…
5-10 Look at just a couple of the cool photos I found while looking for china :)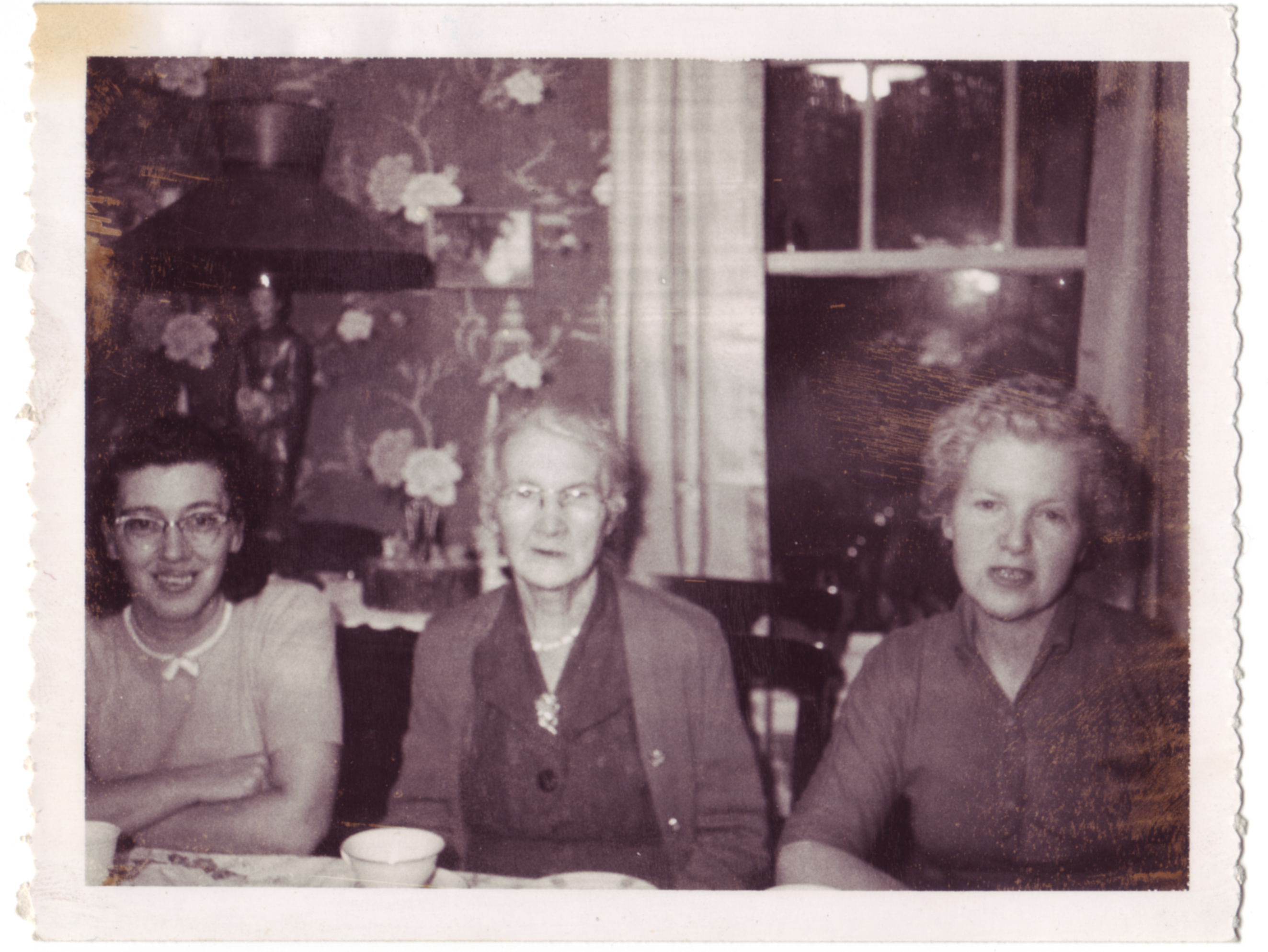 Hmm… See that tea cup? That's the back of the pattern :) This is my Grandmother on the right, I think my Grandfather's mother in the middle, and his younger sister on the left… Could be wrong on the left…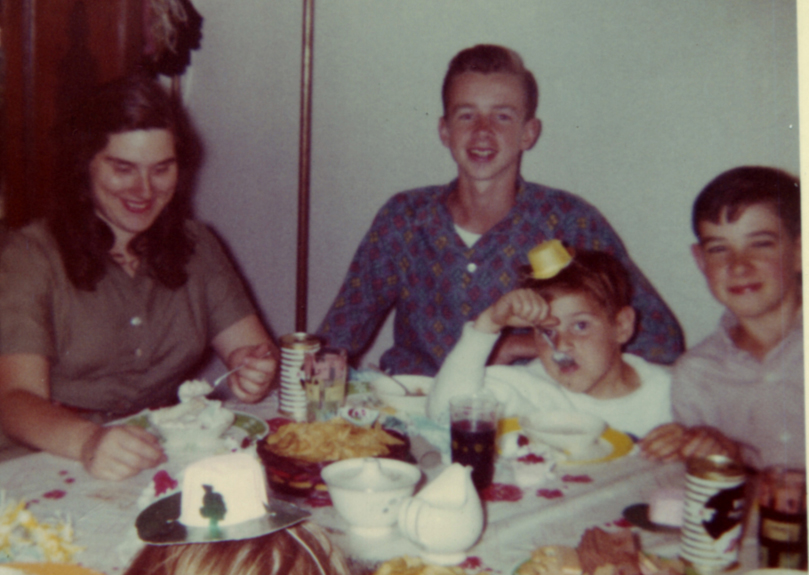 So, my Dad in the middle (photo dated 1962, long before he was my dad :) and my Uncle Dave on the far right… Not a clue who the other 2 people are… but that's "my" covered sugar bowl and creamer on the table! Look familiar to anyone? I'll take any suggestions… If anyone has one in their hutch and can just look at the bottom for me…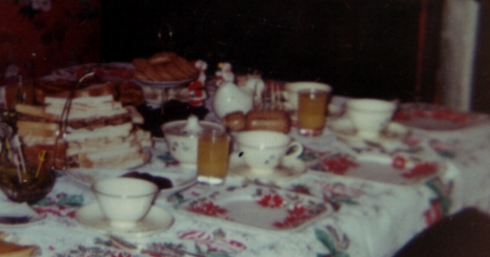 Pics of the teacups and another shot of the fabulous sugar bowl!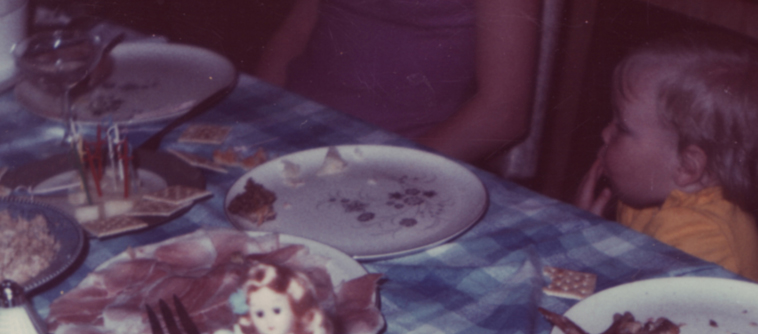 And, here it is… the dinner plate… That's right… I did remember it… now if I can only get my xray scanner to work so that I can read the back… :)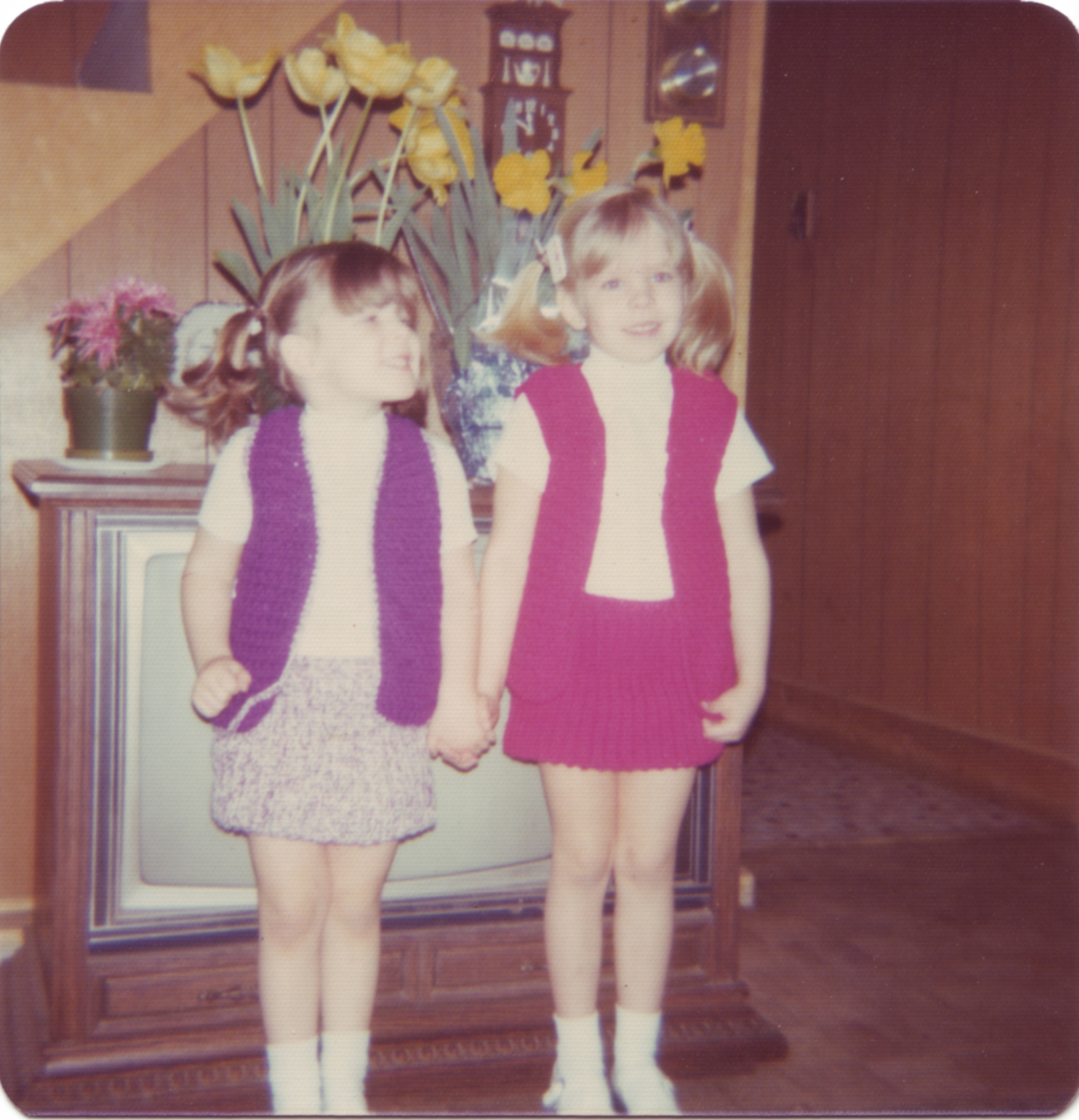 OK… last 2 have nothing to do with my global search for the china pattern, but, honestly, I HAD to scan them too… Who wouldn't want matching crocheted vests and skirts for Easter… circa 1975-ish :) Kathryn's already lobbying me to make her one… Me and my sister :) We're pretty cute!
Oh, look! Who's that adorable baby? Oh, me!! and my Gram. January 1970… So I was about 8 months old… Kathryn thinks Gram looks exactly the same as she remembers, but with brown hair!
Hope everyone has a fantastic week… I'll be searching for china!!